I am going to be writing some helpful articles for my clients in the coming weeks. To start, I would like to cover my preference for dressing your family for family portraits.
Family pictures here in Phoenix tend to be pretty casual, which I think makes the best pictures. It's easy to smile and pretend like you're having a great time when you have on your favorite pair of jeans. And jeans are the go-to staple for family portraits because it's one less thing you have to buy. Everyone already has a great pair of jeans.
So the next step is to pick color combinations or color families that work well with jeans. My favorite colors for family photos are  jewel tones. These include deep purple, dark berry colors, burnt orange, mustard yellow, jade green, vibrant turquoise… you get the idea. Plain white or black become boring unless you add some color to make it pop. I love the following two families photos. The first one in the jeans, white, green and brown. This is a great earthy color combination. The second family is brightly dressed in the jewel tones that I mentioned. They don't match necessarily, but the combination of multiple bright colors makes them look cohesive. Everyone looks confident and cute, yet the colors make the family unified as well. Attempt to match your family's personality when shopping for  your next family portrait session. If you are a casual family, like the first one pictured, maybe take your shoes off for a few shots like they did.

Blue and brown are colors we just can't get enough of in family pictures, they compliment a wide variety skin tones and it's easy to find clothes that work. I love how in this portrait Mom and Baby have their ruffles, the stripes look great on Dad, and everyone looks so put together.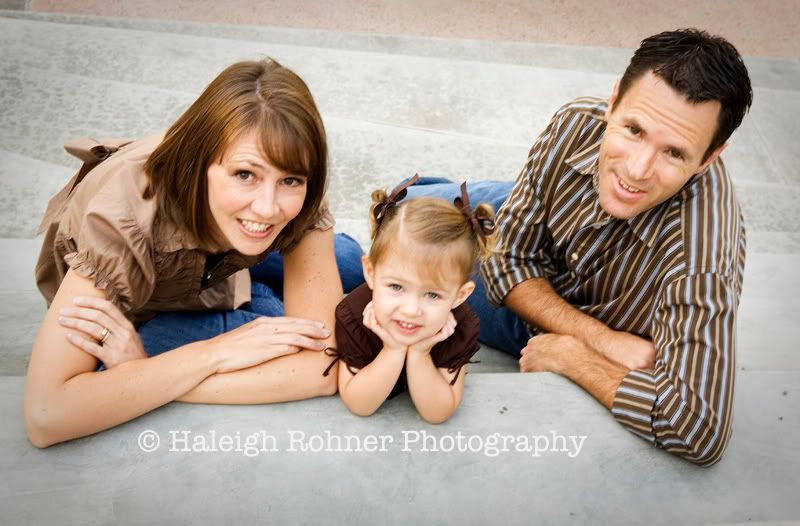 Keep in mind that the smaller the family, the more color you can add to each person's look. Pick a focus color and a few complimentary colors for accessories and accents. You won't regret adding a bit of color!
Other combinations that work great in family photographs are black with pops of red, …….
Go in your closet and see what colors you love. What outfit do you put on to when you want to feel your best? On that note, Mom you should pick your outfit first and then find coordinating clothes for Dad and kids. Trust me; you will be more picky about how the family pictures turn out than anyone else. So, you might as well look and feel your best. I hope this helps next time that you go to pick out your wardrobe for your family pictures.
My last recommendation would be to ACCESSORIZE! It is so important. The bigger and bolder the better, when it comes to family photos. Scarves, hair flowers or bows, necklaces, earrings, belts, colorful shoes can all add fun pops of color to your photo. So, pick something that feels a little bit flashy, when it comes to accessories and it will look just right in the photo.
I am going to continue to add informative articles to my blog like this to better serve my clients. Feel free to leave a comment if you have a question that you would like answered about your next family portrait session.